How do I get an appointment?
Our receptionists are available from 8.30am to 12.30pm and 1.30pm to 6pm, Monday to Friday.
The appointment system operates a mix of appointments bookable in advance and 'on the day.
Patients should phone the practice on the day they would like to be seen, and a Doctor, or Advanced Nurse Practitioner will return the call to assess your condition and schedule a face to face appointment if required. There are a portion of appointments that are bookable 'on the day' online via the button above.
Our reception staff will ask patients for a brief description of symptoms to enable them to book with the most appropriate staff member.
If you are asked to come into the surgery for a face-to-face appointment, please remember to wear a face covering. Measures are in place to keep you safe from infection during your visit to the surgery.
NHS Health Check
Get your 'midlife MOT' with a free NHS Health Check
The programme aims to give people a once-over as they move into their middle years, helping spot signs early and providing peace of mind. It lets you take control of your health, and enjoy life for longer.
Give us a call to sign up!
What do NHS Health Checks protect against?
NHS Health Checks detect a range of different vascular and circulatory conditions. This includes Dementia, Heart Disease, High Blood Pressure, Strokes, Diabetes and Kidney Disease.
Who is eligible for NHS Health Checks?
NHS Health Checks are available for anyone who's aged between 40 and 74 and isn't already in touch with their GP about a pre-existing condition.
What does it involve?
The NHS Health Check is very straightforward, and it will only take 20-30 minutes.
It's based on simple questions about age, lifestyle and family history, along with standard measurements of height, weight, urine content and glucose and cholesterol levels.
Extended Hours - Late Evening Surgeries
Monday and Thursday Late Evening Surgeries are provided as an additional service, to offer our patients appointments with a doctor outside normal working hours. These appointments are strictly pre-booked and from 6.30pm to 8.00pm, unless you have already booked an appointment, you should consider the surgery closed. Emergency care will continue to be provided by Hunts urgent Care
Advanced Nurse Practitioners
Our Advanced Nurse Practitioners can see and treat you for a whole variety of problems; you don't have to see a doctor.
The only problems that they are unable to treat are the following;
 Children under 2 years
 Pregnancy related problems
 Issuing sick notes over the phone
Booking On-Line?
To access the ON-LINE facility you will need to visit the surgery to obtain your login and password details. The reception team will help you with this. When you have registered for the online service you will need to wait 24 hours for this registration to take effect.
You CANNOT register on behalf of someone else unless you have their written permission or the person is under the age of 16.
To book or cancel your appointment online, please use the link at the top of this page:
Cancel an Appointment
It is important that you inform the reception staff if you are unable to attend your appointment, this will allow that appointment to be offered to another patient. If you fail to notify the Practice that you are unable to attend, you will be sent a letter informing you that you have defaulted from your appointment. Persistent defaulters maybe removed from the list.
You can also complete our appointment cancellation notification request form. This can only be used if your appointment has been arranged for more than 24 hours in advance. (excluding weekends and public holidays). You can also text to cancel your appointment.
Text Reminder Service
We have a texting service which allows you to receive confirmation and reminders about your appointments.
To have this service you will need to register by completing a consent form.
Please remember to update your contact details with us when you change address, telephone numbers and email address.
Late For Your Appointment
Please attend your appointment on time, if you are late you may not be seen. If you are not seen you will not be able to rearrange your appointment until the next working day-except in the event of an medical emergency that requires immediate attention.
Interpreter
If you require an interpreter to attend with you when you see your Doctor please notify the receptionist and she will arrange this for you.
Home Visits
For routine home visits, please telephone reception before 10:30am.
Please view out Home Visit Policy by clicking here!
You may only request a home visit if you are housebound or are too ill to visit the practice. Your GP will only visit you at home if they think that your medical condition requires it and will also decide how urgently a visit is needed.
You can be visited at home by a community nurse if you are referred by your GP. You should also be visited at home by a health visitor if you have recently had a baby or if you are newly registered with a GP and have a child under five years.
Do You Need Help With Transport?
Hospital Transport
To qualify for hospital transport, you must live at least three miles from the hospital and have no other means of getting to your appointment, i.e. own vehicle, family, friend, public or voluntary transport. If you suffer severe physical or mental problems, or are attending for treatment which has physical side effects, you may qualify for transport.
If you think you qualify for transport, please contact the patient and carer line on 0345 603 8117. Lines are open 8am - 6.30pm, seven days a week.
As much advanced notice as possible is needed but bookings must be made at least 48 hours before your appointment. Patients are asked to be ready to travel TWO HOURS prior to their appointment time.
If your hospital appointment is cancelled for any reason, please call the above number as soon as possible in order for the service to use their vehicles and staff in the best way possible.
If you do not qualify for hospital transport it is possible you may be able to access one of the local Community Car Schemes. You will normally be charged a nominal sum per mile to cover fuel costs etc. See the page on our Further Information menu below.
Extended Access
Patients of our practice are now able to book routine appointments to be seen by doctors, nurses and healthcare assistants in the evenings and at weekends in Extended Access - a new service provided by West Cambs Federation.
This service is available to all patients in this area seven days a week in sessions at four clinics:
Acorn Surgery, Oak Drive, Huntingdon.
Buckden Surgery, Mayfield. Buckden.
Cornerstone Surgery, Elwyn Road, March.
Cromwell Place Surgery, Cromwell Place, St. Ives.
You can make an appointment at any of the sites - not just the one nearest to your home.
To book an appointment please contact our Reception Team on 01354 695888 - and we will book your appointment for you.
Driving/Insurance/Adoption/School/Firearms Licence Medicals and Reports
Medical assessments and reports for those listed above are non contractural private NHS work and therefore a charge will apply and may well be subject to VAT.
Please contact reception for more information.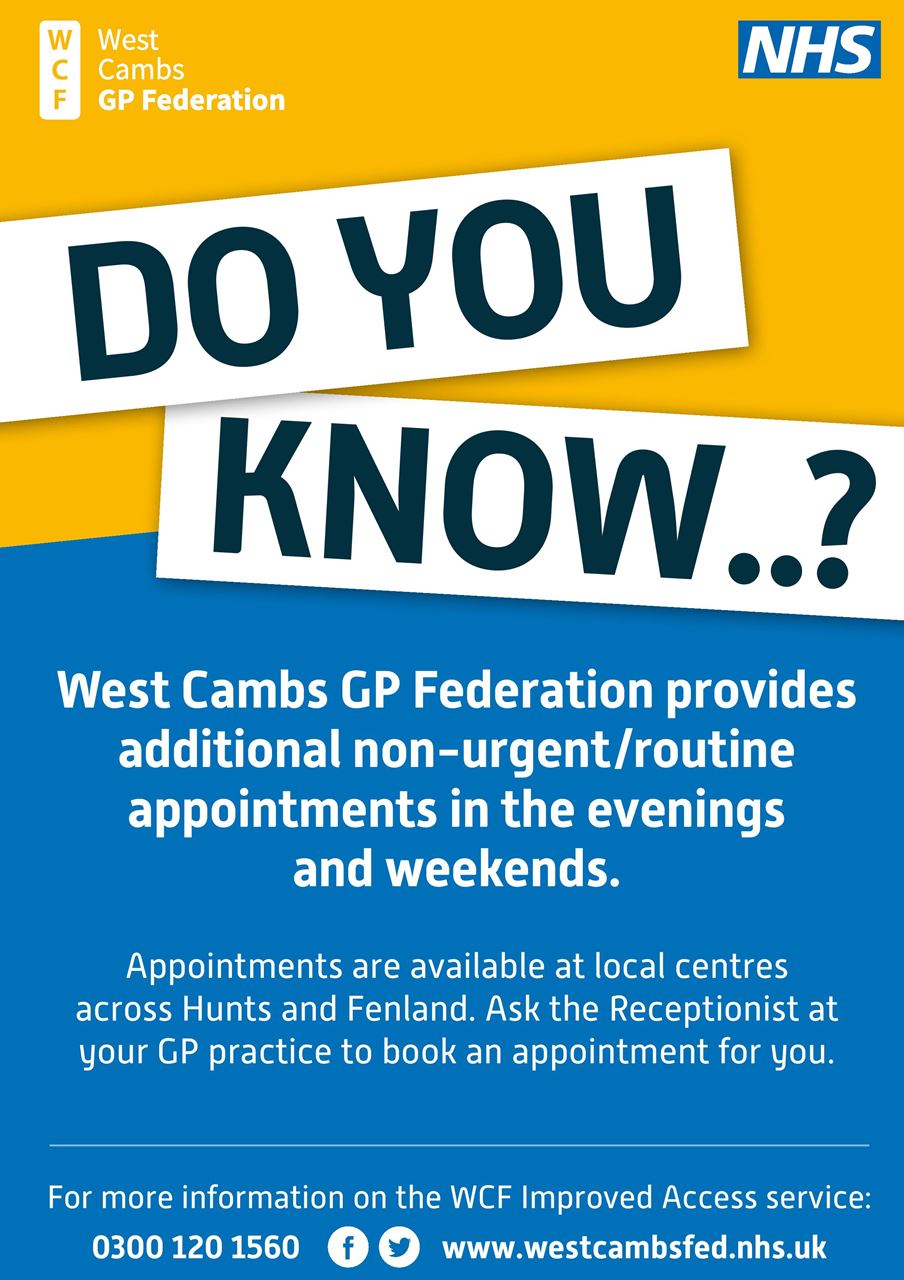 George Clare Surgery would like to invite you to join DoctorLink.
We have been looking at how we can improve access to Practice services; DoctorLink is our new online service where you can access advice and appointments on line.
Registration is simple and you can register here: GCS Doctorlink registration
Use online or via the app (available to download from the App Store & Google Play store)
The symptom checker will ask you a number of questions to help to identify your problem.
The outcome of your assessment will direct you to the right treatment, whether emergency care, your GP, nurse or self-care.
If your outcome indicates that an appointment is required, available appointments will be displayed.
If no appointments are available select request appointment and you will then be contacted by the Practice Team, to arrange an appointment within the identified timeframe (as outlined in the outcome of your symptom checker)